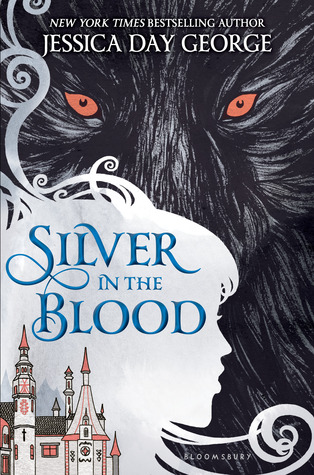 Title
: Silver In The Blood (Silver in the Blood #1)
Author
: Jessica Day George
Reviewer
: Karen
Genre
: YA Historical Fantasy Paranormal Horror (um take your pick...It's a little cross of several genres)
Rating
: Fabulous
Alerts/Warnings
: Shape-shifting that leaves clothes behind, Wolves shown in battle (but described relatively cleanly).
Premise
: "In 1897, seventeen-year-olds Dacia and Lou, New York socialites and cousins, visit their maternal homeland of Romania and learn the family secret--that they are shapeshifters, expected to take their rightful places and marry proper husbands" (King County Library System).
Opinions
: I have enjoyed everything I have ever read by Jessica Day George. Having said that......
Silver In The Blood
is my favorite. It was also highly unexpected. The majority of Jessica's other stories revolve around fairy-tale retelling or incredibly awesome twists on the young adult traditional fantasy with female main characters. I was expecting more of the same type of story when I picked up this book, not that I wasn't thoroughly excited to delve into a new story from one of my all time favorite authors. So imagine my surprise when I realized that this book takes place in Romania in the 1800s and revolves around the ancestors of Vlad the Impaler (the genesis of the Dracula story). The story didn't just draw me in, it sucked me in hook, line & sink your teeth to the very core. The main characters were real to me, though from a different time, as they struggled with the teen struggles of the day, and yet when life opens up a horrible truth their reactions are real. My favorite character of all is Lou. I want to be her. I want her grace, her tenacity, her courage, her strength. Yeah, if I couldn't be her I would at least want to be really good friends with someone like her. Her cousin, Dacia, is a fantastic character, don't get me wrong, but personality wise I resonate more with Lou. With the ability to see the main characters' inner struggles through their letters and journal entries added to the traditional story telling the reader gets a more three-dimensional view into their growth throughout the story. I'm so fascinated by the story, its concept, and the imagery that I now need to add Romania to my research and places to visit list. So, yes, you should read this book. And happily, it looks like
Silver In The Blood
is the beginning of a series. Yeah baby!!! One happy reader here.