There is a reason this publisher is printing this book for the third time in the two and a half months since it was first released. It's that great.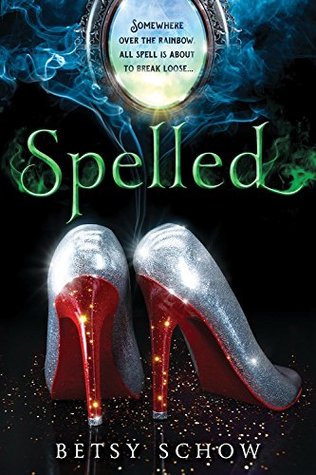 Title
: Spelled
Author
: Betsy Schow
Reviewer
: Karen
Genre
: YA Fiction (Children's Classics Mash-up)
Rating
: FABULOUS!!!!
Alerts/Warnings
: None
Premise
: "
Fairy Tale Survival Rule #32: If you find yourself at the mercy of a wicked witch, sing a romantic ballad and wait for your Prince Charming to save the day.

Yeah, no thanks. Dorthea is completely princed out. Sure being the crown princess of Emerald has its perks—like Glenda Original ball gowns and Hans Christian Louboutin heels. But a forced marriage to the brooding prince Kato is so not what Dorthea had in mind for her enchanted future.

Talk about unhappily ever after.

Trying to fix her prince problem by wishing on a (cursed) star royally backfires, leaving the kingdom in chaos and her parents stuck in some place called "Kansas." Now it's up to Dorthea and her pixed off prince to find the mysterious Wizard of Oz and undo the curse...before it releases the wickedest witch of all and spells The End for the world of Story" (GoodReads.com).
Opinions
: I was so excited to get this book as Betsy is a friend of mine. I was able to see this book flourish and grow and I couldn't wait to read it in its final iteration. As soon as it came out I ran home and started reading it out loud to my husband. By the end of the first few chapters he said, "You're loving this aren't you?" Well, yeah. But I wasn't sure if he was. My husband is a huge fan of the original Frank L. Baum's Wizard of Oz--he's even read the series to our daughter since she was about two. So I stopped reading it out loud to him after a few nights because I didn't think he was into it. Then we went to a doctor's appointment together and he caught me reading it to myself. "Isn't that the one we're supposed to be reading together?" he asked.
Busted.
We read the rest of it together and he thoroughly enjoyed it. I laughed. I cried.....I nearly snorted soda out my nose.....you get the picture.
Just be prepared for snark. Be prepared for sass. And be prepared for everything you think you know about the Wizard of Oz and other children's classics to be flipped on its head, tossed in a cyclone, and rewritten in the most creative, inventive, unique way then turn it into a YA novel. I cannot wait for you to meet Dorthea (Dot) re imagined, Prince Kato (like
no
prince you've ever seen) and Rexi. You are in for a true adventure with
Spelled.
P.S.
The last time I went to see my counselor she told me she was currently reading this book because she knew that I was friends with the author and had recommended it. She said that she didn't get into it right at first, but that her teenage daughter refused to let her put it down. Now she is immersed and has to know how its going to play out. Yeah, its that addictive. And the good news......the publisher has picked up the entire series. So we'll all get to see what happens to Dorothea next.