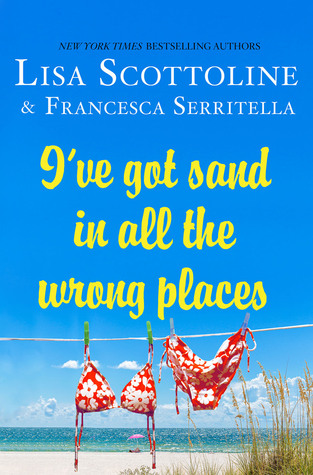 Title
: I've Got Sand in All The Wrong Places
Author
: Lisa Scottoline & Francesca Serritella
Reviewer
: Karen
Genre
: Non-Fiction Humorist
Rating
: Fabulous
Alerts/Warnings
: Mild Language
Premise
: "
Lisa and Francesca are back with another collection of warm and witty stories that will strike a chord with every woman. This six book series is among the best reviewed humor books published today and has been compared to the late greats, Erma Bombeck and Nora Ephron. Delia Ephron said of the fifth book in the series, Have a Nice Guilt Trip, "Lisa and Francesca, mother and daughter, bring you the laughter of their lives once again and better than ever. You will identify with these tales of guilt and fall in love with them and fierce (grand) Mother Mary." This seventh volume will not disappoint as it hits the humorous and poignant note that fans have come to expect from the beloved mother-daughter duo" (goodreads.com)
Opinions
: Apparently I am late to the game on this dynamic mother/daughter writing duo
. I've Got Sand in all the Wrong Places
is the sixth book in the series, but the first one I've read/listened to. My husband and I listened enamored as we escaped our kids for our 15th anniversary for our first ever stay-cation (I know, we live life large). Their humorous take on events in their lives was brilliant, realistic, and hilarious. They didn't sugarcoat the rough parts, but tugged at our heart strings as they were honest about trials, muggings, their opinions on Spanx, Francesca losing her mother in the streets of New York, EXes, and so much more. We were both laughing, shaking our heads, and even teared up at several tender moments. And the quality of their writing was flushed with anecdotes, hidden gems, and beautiful flow. I especially recommend getting the audio version of their books, as the authors read their own work, which adds a brilliant Italian-American flare to their story that might have been missing otherwise.