To read our reviews of the other books in the Princess Academy trilogy click here:
Princess Academy
and
Palace of Stone
.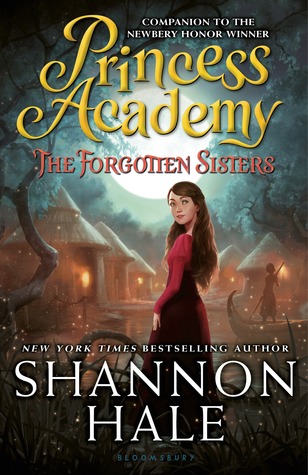 Title
: The Forgotten Sisters (Princess Academy#3)
Author
: Shannon Hale
Reviewer
: Karen
Genre
: YA Fantasy
Rating
: Fabulous
Alerts/Warnings
: None
Premise
: "Miri's eager to return to her beloved Mount Eskel after a year at the capital, but the king and queen ask her to first journey to a distant swamp and start her own miniature princess academy for three royal cousins, but once there she must solve a mystery before she can return home" (King County Library System).
Opinions
: Shannon Hale is on my top ten list of incredible authors. If it has her name on the cover then there is a 98% chance that I'm going to LOVE that book. Once again, she did not fail. Even though
The Book of A Thousand Days
is my all time favorite book of Shannon's, the
Princess Academy
series is my favorite series. She does a fabulous job of taking the struggles of young women that apply to today and put them in a fantastical realm that lets the reader's imagination sore. When I read this conclusion to the Princess Academy series I was down with a cold. This may be cheating, but I'm going to share what I posted on Facebook: "Today I have had the luxury of recovering from a cold while reading
Shannon Hale
's Princess Academy: Forgotten Sisters and I rolled over and looked out my bedroom window. The clouds were so low that I could no longer see the mountains just outside and suddenly I felt like Miri, missing MY mountains."
I love that Miri is one again handed a twisted goal that she must deal with in the hopes of bettering the lives of Mount Eskelites. She takes the challenge head on and then realizes that not all is as she was promised. I love the continuation of Miri & Pedre's relationship to see how it grows from a distance. I love Miri's growth and how she finds a greater strength inside herself. I love the strength of women portrayed in the book, even if they falter, once they realize the truth each and every woman stands strong in her own way. This entire series is one that I long to and will be proud to read to my daughter.