To read my reviews of the other books in this series, click here:
Partials
,
Fragments
.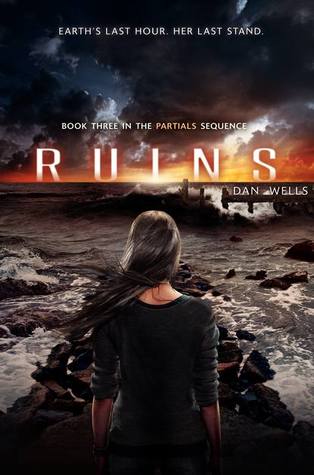 Title
: Ruins (Partials Series #3)
Author
: Dan Wells
Reviewer
: Karen
Genre
: YA Dystopian/Post Apocalyptic
Rating
: Love
Alerts/Warnings
: Swearing, Killing Associate With Battle
Premise
: "As a war between the humans and the Partials looms, Samm finds himself trapped beyond a toxic wasteland, and Kira finds herself under the control of Dr. Morgan who is desperate to save the Partials" (King County Library System).
Opinions
: Two books in one week. I know. . . amazing. Well, I'm sick so I get time to actually catch up on reading and reviewing. Yeah!!! Anyway, this series is FABULOUS. The only reason I didn't give all the books in this series top notch ratings is simply because of the death toll and some swearing. The premise, the characters, and the setting are brilliant. Dan Wells does an amazing job of bringing new twists and turns to this genre. I am completely fascinated by the moral and ethical dilemmas in this book, watching the choices that individuals made and why, and then contemplating whether or not I would do the same. This is a fantastic book for discussion and an engaging read. Once the cover is opened it is hard to put down. For the whole series I either ignored my family or had to make sure I could read it when they weren't around because I was in it so deep it was hard to stop. So is this series good. Yes. Should your teen read it? Well, that's up to you. You know them better than anyone. But it would make a great discussion of right vs. wrong, points of views, self-value, ethics, and dealing with consequences of your choices.