To read my reviews of other books in this series, click here:
Cinder
and
Scarlet
.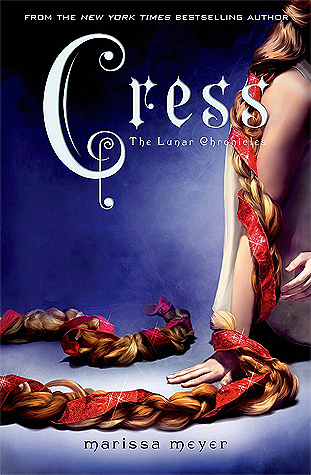 Title
: Cress (Lunar Chronicles #3)
Author
: Marissa Meyer
Reviewer
: Karen
Genre
: YA Dystopian/Steam Punk/Fairytale Retelling/Sci-Fi
Rating
: Fabulous
Alerts/Warnings
: Moderate Violence
Premise
: "Cinder and Captain Thorne are fugitives on the run, now with Scarlet and Wolf in tow. Together, they're plotting to overthrow Queen Levana and prevent her army from invading Earth. Their best hope lies with Cress, a girl trapped on a satellite since childhood who's only ever had her netscreens as company" (King County Library System).
Opinions
: Brilliant. Absolutely stinkin' brilliant. The end.Okay, well not exactly the end. I mean the series isn't finished after all. Once again I listened to this on CD while on a long drive to visit family in St. George. Just ask my husband. I was laughing out loud. I was yelling at the car stereo. And I hated to stop for gas because I'd have to pause the story.
In this third installment of the Lunar Chronicles series we are treated to the retelling of Rapunzel in the form of Crescent Moon (a.k.a. Cress) who is a shell--a lunar without bio-electrical manipulation abilities. And yet, Cress is my favorite character by far. In fact this whole book is my favorite of the series (which is saying a lot). She is spunky. She is naive. She is brilliant. She is funny. And she is out to help Cinder save the universe, if only she could ever leave the satellite that Mistress Cybil (the lunar queen's right-hand woman) has confined her to for the last seven years.
The way that Marissa Meyers interweaves these fairy-tale re-tellings in a new and creative light is brilliant. She ties the characters together with plot twists and character arcs that leave the mind whirling, but she's laid the foundation so smoothly that I buy it. I am SO loving being on this crazy journey with the whole menagerie of twistedly awesome characters that I cannot wait to listen/read the next book,
Winter.
I seriously would tell you more about what I love about
Cress
, but as River Song (insert Doctor Who reference) would say---SPOILERS!!!!