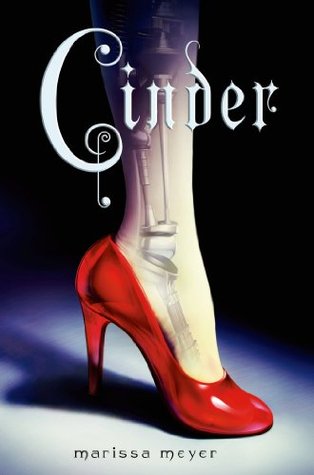 Title: Cinder (The Lunar Chronicles #1)
Author: Marissa Meyer
Reviewer: Karen
Genre: YA Fiction/Sci-Fi/Fairytale Retelling/Everything
Rating: Fabulous
Alerts/Warnings: Scenes of death from an epidemic
Premise: "As plague ravages the overcrowded Earth, observed by a ruthless lunar people, Cinder, a gifted mechanic and cyborg, becomes involved with handsome Prince Kai and must uncover secrets about her past in order to protect the world in this futuristic take on the Cinderella story" (King County Library System).
Opinions: This book is AMAZING. Take Cinderella, combined with a little Anastasia, and make into a sci-fi futuristic story with cyborgs, lunar people, and place it in a newer version of Beijing, China. How can you get more brilliant than that. Okay, add in three dimensional characters, incredible plot twists, bio-electric manipulation and an epidemic. Do I have your attention now. This book is worth reading. So go get it now. Read it. And then tell me if you loved it as much as I did. As for me, I have to go and immediately put my name on the wait-list for book #2,
Scarlet,
at my local library. See ya!