To read my review of the first book in this series, click here:
Cinder
.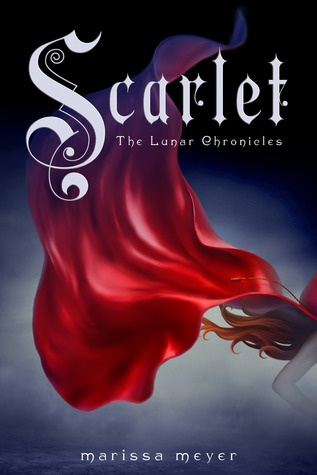 Title
: Scarlet (The Lunar Chronicles #2)
Author
: Marissa Meyer
Reviewer
: Karen
Genre
: YA Dystopian/Steam Punk/Fairytale Retelling/Sci-Fi
Rating
: Adore
Alerts/Warnings
: Moderate Violence
Premise
: "Cinder, the cyborg mechanic, returns in the second thrilling installment of the bestselling Lunar Chronicles. She's trying to break out of prison--even though if she succeeds, she'll be the Commonwealth's most wanted fugitive. Half way around the world, Scarlet Benoit's grandmother is missing. It turns out there are many things Scarlet doesn't know about her grandmother or the grave danger she has lived in her whole life. When Scarlet encounters Wolf, a street fighter who may have information as to her grandmother's whereabouts, she is loath to trust this stranger, but is inexplicably drawn to him, and he to her. As Scarlet and Wolf unravel one mystery, they encounter another when they meet Cinder. Now, all of them must stay one step ahead of the vicious Lunar Queen Levana, who will do anything for the handsome Prince Kai to become her husband, her king, her prisoner" (King County Library System).
Opinions
: In Scarlet the point of views switch between Scarlet (a new vision of Red Riding Hood) and Cinder (Cinderella) from book one. The concepts and twists in this book are amazing and a breath of fresh air. I love the interplay between characters. I admire the creativity in Meyer's world building. I actually LOVE the men more in this book than the women--wolf and Captain Thorne leaped of the page (or well audio system) for me. While Scarlet's character was fascinating, her mood swings were a bit much for me at times, and yet they were completely and utterly understandable. I actually listened to this book on cd while in the car, and the voice actor did a beautiful job making each character stand out well in the story. The struggles both Cinder and Scarlet faced were three-dimensional and the way Meyer's interwove their stories beautiful. The violence was a bit gory at times for my taste, but did fit with the overall stories. I'm very intrigued to see where the next book in the series,
Cress,
goes.