To read my review of the first book in this series, click here:
Divergent
.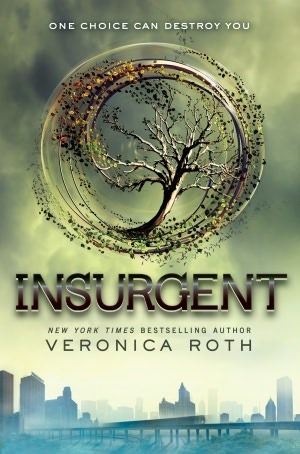 Title
: Insurgent (Divergent #2)
Author
: Veronica Roth
Reviewer
: Karen
Genre
: YA Dystopian
Rating
: Like
Alerts/Warnings
: High Violence, Swearing, Intense Moments
Premise
: "As war surges in the dystopian society around her, sixteen-year-old Divergent Tris Prior must continue trying to save those she loves--and herself--while grappling with haunting questions of grief and forgiveness, identity and loyalty, politics and love" (King County Library System).
Opinions
: I had mixed feelings about this story. Once I read the first book, I of course wanted to know what happened next. I was pleased to see that the plot was fascinating. At first I wasn't fond of where Tris' character arch was going, but I was glad to see her grow and how she chose to honor her parents. I would recommend that parents read this book first to ensure that their particular children can handle the content. I was pleased to see a new level of connection between Tris & Four and that their relationship didn't automatically come easy. I liked Christine's return and the things she overcomes throughout Insurgent.
I did have serious difficulties with some of the more violent scenes, especially when Tris is given a Terror serum. It was more than I can handle, though I am sensitive and have an active imagination. Also, keep in mind I was listening to the story on CD in my car with young children in the back seat. I immediately turned it off, until I could finish it without them around. I was fascinated enough by the ending that I'm debating weather or not go ahead and find out the ending in
Allegiant
, or to call it at watching the movie. The jury is still out.