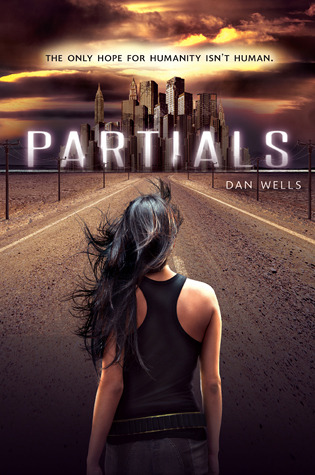 Title
: Partials (Partials Sequence #1)
Author
: Dan Wells
Reviewer
: Karen
Genre
: YA Fiction/Dystopian
Rating
: Love
Alerts/Warnings
: Moderate Violence, Mild Swearing
Premise
: "Humanity is all but extinguished after a war with Partials—engineered organic beings identical to humans—has decimated the population. Reduced to only tens of thousands by a weaponized virus to which only a fraction of humanity is immune, the survivors in North America have huddled together on Long Island. But sixteen-year-old Kira is determined to find a solution. As she tries desperately to save what is left of her race, she discovers that that the survival of both humans and Partials rests in her attempts to answer questions about the war's origin that she never knew to ask" (GoodReads.com).
Opinions
: As soon as started reading this book I was sucked in and would have loved not to put it down, except for three problems -- 1) my kids, 2) it was due back at the library two days after I started reading it, and 3) I couldn't renew it. In that two days I made it half way through the book and it ruined me off of reading for a whole month. I just got the book back from the library and I'm already done. Phew, now I can read other books. Needless to say I loved this book. I loved the concept and I was intrigued by the main character, Kira. Most of all I loved the complexity of all the characters. They were three dimensional and came alive to me. Overall, what kept me pondering of the last month while I waited to be able to finish it was the concept of ethics. This book is one fantastic debate on ethics. And the "right thing to do" is based on the person asking the question. The only reason I didn't give this book a
fabulous
rating is because of the violence and swearing. But considering the setting and plot they fell in line with the story. This is definitely a book I recommend parents read first to make sure that their particular child is ready for it. And if they are, it will make an amazing book to start a discussion on ethics and moral decisions. So go read it all ready.